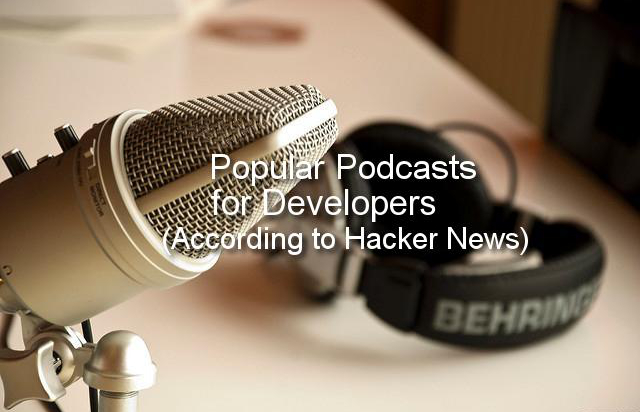 Looking for developer podcasts so great you'll want to binge listen? We've got you covered. 10 top picks from the Hacker News threads.
We've been talking about developer podcasts around the office, and we decided to analyze Hacker News to see which podcasts folks recommended most over there.
To do this, we analyzed the podcast recommendation threads from the past two years to see which ones were mentioned most.
From there, we filtered it down to developer podcasts that were more technical in nature (there were many that focused on entrepreneurship more generally such as the insanely popular Tim Ferriss Show — we decided to leave those off this list).
Lastly, we focused in on the developer podcasts most interesting and informative for CTOs, development managers, and of course, developers themselves.
10 Great Developer Podcasts

10. NodeUp
NodeUp is a podcast devoted to your node.js interests. Episodes, hosted by Rod Vagg and Tim Oxley, range from half an hour to an hour long and feature a number of different guests. Listen to their latest episode on the world of Docker here.
9. Herding Code
Hosted by Scott Allen, Kevin Dente, Scott Koon, and Jon Galloway, Herding Code is a popular podcast just for hackers and developers. Episodes tend to come in periodic bursts and run for 15-20 minutes. The episodes are timestamped for your convenience.
8. JavaScript Jabber
JavaScript Jabber is a weekly podcast all about… you guessed it… JavaScript. Topics include node.js, front-end tech, careers, and more. Episodes tend to run around an hour long and features a large panel of contributors. Ever wonder about how JavaScript got its name? You can find out on this episode. 
7. Ruby Rogues
The Ruby counterpart to JavaScript Jabber listed above — Ruby Rogues is a weekly, hour-long podcast on programming with Ruby. Check out their episode featuring Phil Spitler on what makes a great developer here.   
6. Partially Derivative
This podcast is about "data, data science, drinking, and awesomeness!" Hosted by Jonathon Morgan, Vidya Spandana, and Chris Albon, Partially Derivative is obsessed with data and how it affects our lives. Listen to their episode on keeping data science weird. 
5. Shop Talk Show
The Shop Talk Show, hosted by Dave Rupert and Chris Coyier, is a casual podcast for front-end developers. Episodes are weekly and are about an hour long each. A unique episode that anyone might enjoy is between the interviewer (Chris Coyier) and the hacker that used social engineering techniques and fake documents to hack him. Listen to it here.  
4. Techzing
People love Techzing for their fun and informative podcasts. Hosted by Justin Vincent and Jason Roberts, Techzing focuses on development and tech. They generally occur around once a month and episodes range from 30 minutes to two hours. 
3. Hanselminutes
Hosted by Scott Hanselman, Hanselminutes refers to itself as "fresh air for developers." Weekly episodes feature half hour interviews with various developers. Recent episodes include a conversation with the folks behind the Open Artificial Pancreas System, an interview with Data Visualization expert Irene Ros, and an interview with Ben Adams of Illyriad Games about game development with web technologies.
2. Talk Python To Me
Talk Python To Me, hosted by Michael Kennedy, is for developers who are passionate about Python. Episodes consist of 30 minute conversations with industry experts. 
1. Software Engineering Radio
Topping our list, Software Engineering Radio covers a broad range of topics.  Their episodes focus on interviews with software engineering experts and authors and episodes are one hour long. We especially liked a recent episode with Linda Rising on "The Agile Brain".
We are also giving an "Honourable Mention" shoutout to This Developer's Life by Scott Hanselman and Rob Conery. We left this off the list because there haven't been many episodes published recently, but this continues to be frequently mentioned on Hacker News as a much-loved developer podcast.
—
Sprintly is a painless software project management tool for startups and agencies. With no configuration or training needed, your team can be up and running in seconds. Click here to try it for free.
Photo credit: Patrick Breitenbach (Flickr)