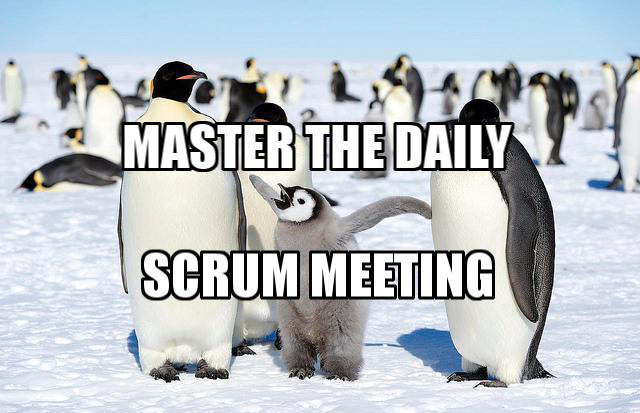 The scrum meeting, aka the daily stand-up, is the 15 minute meeting that makes product development teams more productive and efficient. 
Yet, sometimes the scrum meeting gets a bad rap. Some even argue it's an outdated practice and a waste of time. We disagree. So do most of our customers at Sprintly who run agile processes. We've all found that this meeting style helps us run our team more effectively.
We've also noticed some pretty big differences between those who value scrum meetings and those who don't. And most of those have to do with how the meeting is run. When mastered, scrum meetings can become an invaluable tool for keeping your development team on track.
So we've put together the best tips and tricks to help your scrum meeting run like a lean, mean, effective machine.
So here's 5 best practices to keep your scrum meeting on track.
Let's be clear. Everyone does stand-ups a little differently. That's ok. But no matter what you do, focus and efficiency are priorities.
1/ Remain standing!
It may sound like a gimmick… it may sound like a formality — trust us, it's not. Staying on your feet is the core principle of the scrum meeting. It reduces rambling and keeps you focused.
An easy solution to eliminate sitters? Hold the meeting in a room without chairs or keep all chairs on one side of the room. Forcing someone to go out of their way to pull up a chair is an excellent way of silently keeping your team on their feet.
2/ Your 3-question agenda 
The scrum meeting, in an agile development world, has every team member answer three simple questions:
i) What did you accomplish since the last meeting?
ii) What are you working on until the next meeting?
iii) What is getting in your way or keeping you from doing your job?
This tells the team exactly what is getting done and what needs improvement. Listing any problems or issues you may have is crucial, so that your team will know to help you out. And small problems should always be addressed so that they don't turn into big problems.
Note: The answer to the first question should only be a brief mention. Far more time should be spent talking about current tasks and the issues you may face.
3/ Have your project management tool visible
This could be in the form of a physical kanban board or software like Sprintly — it's important for your team to see what is being finished and what is taking longer than expected. This is especially helpful for teams that spend too long answering key question #1. Also, getting everyone into the habit of reviewing the project management tool right before the meeting results in a big efficiency boost.
4/ It's a collaborative effort
One of the most common scrum meeting mistakes is making it a turn-based 1:1 chat with the project manager or scrum master. This completely defeats the purpose of the stand-up and should be avoided at all costs. This is valuable time that should be treated as collaborative effort for the whole team.
A good way to keep scrum meetings efficient is to establish a simple rule:
Everything you say should be valuable to everyone in the room. Individual talks can happen at any time of the day aside from the stand up meeting.
5/ Plan the meeting around your team
We get that in the real world it's impossible to adhere to a strict schedule, but it's important to develop some sort of routine for your stand up meetings. Without a routine, procrastination will take effect and meetings will never happen.
Whether you have it everyday or every week, consistency is key. If your team gets to the office early everyday, hold your meetings first thing in the morning as to not interrupt valuable work time. Is your team's arrival staggered? Do your team mates have other commitments in the morning? Hold your stand-ups in the afternoon.
The scrum meeting is less about strict rules and more about maximizing productivity. Turning the daily or weekly stand up into a regular routine that accommodates your team's unique schedule helps ensure scrum meetings are an effective tool for your development team. 
Avoidance alert: 4 bad habits that derail scrum meetings.
1. Waiting around for your team
Always start your meeting at the set time. Those who miss it or who are late will feel guilty and try harder to make it to the next one.
2. Introducing new ideas
The scrum meeting is not a planning meeting. Introducing new topics will divert attention away from answering your strict 3 question agenda.
3. Letting people ramble
We get it — asking people to stop talking can be awkward. In general, adhering to the rule, "everything you say should be valuable to everyone in the room" will keep rambling down. If that's not enough, another simple fix is to set a strict time limit for each speaker.   
4. Abandoning team communication in favor of the stand up
The scrum meeting should not be the sole means of team communication. It's easy to wait around for the next meeting to bring up an issue, but this just slows down your team and bloats the stand up meeting.
—
Tired of managing your software project with a checklist? Sprintly requires no configuration or training and your team can be up and running in seconds. Click here to try it for free (no credit card required).
Photo Credit: Christopher Michel (Flickr)