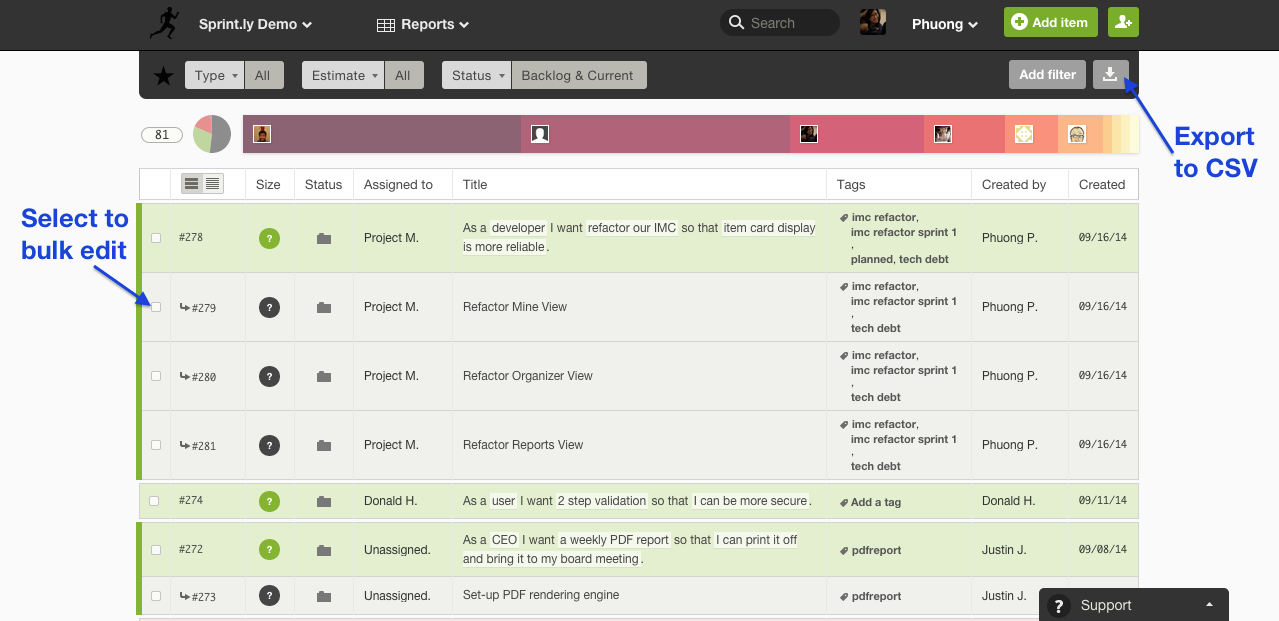 29,000.
That is the number of Sprintly users out there in the world and that number continues to grow everyday. We are grateful to all our customers and work hard every day to add value to Sprintly. We work towards shipping often, rolling out app improvements and bug fixes on a weekly basis.
Today I'm excited to announce that we shipped out two awesome changes to Sprintly. The Reports view* now has two new powerful features: export data into CSV format and bulk edit. Woot. These new features add more flexibility to the Reports view, which allows you to view all items across all statuses.
Set your report parameters by using the Add Filters menu. Do you need a report of items completed in your last sprint? Load the Reports view, filter the list by your sprint tag and by Completed status. You can further refine that with custom date filters. Need to share this report with someone outside of Sprintly? Click on the Export CSV button and  the report will be emailed to you.  Need to add another set of tags to these items? Click the check-boxes to bulk-edit and add another tag. You may read more on how to use the feature in our knowledge base.
Easy peasy and more awesome than ever. Feel free to let us know what you think by contacting us at support@sprint.ly. We'd love to hear from you.
Cheers,
Phuong
P.S. You told us in the latest customer satisfaction survey that we have work to do on the product quality front. We hear you loud and clear and have dedicated October to this important effort.  Thanks for all the feedback and comments and please stay tuned for updates.
*Reports View available on select subscription plans.